Some folks live in a smaller, space-saving size apartment. Others have a house with smaller rooms that seem difficult to find the right purpose for. And some have kiddos that share a bedroom. Whatever the case may be, everyone has a space that's ranked in the itty-bitty size category, and the use for it is hard to find. That's where we come in! By properly furnishing these tiny rooms and spaces, you can get maximum usage out of your home and all its cozy nooks & crannies! Minimum square footage does NOT mean minimum usage or style. In fact, you could say it's just the opposite! 
When looking at smaller spaces, it's important to remember the two rules of tiny room furnishing: 
    1.  Storage is king! Everything needs a place that's 'put away' 
    2.  Smaller-scale (or stacked) furniture allows more floor space 
Let's look at how these two rules can be applied to different types of rooms in your home! 
The Living Room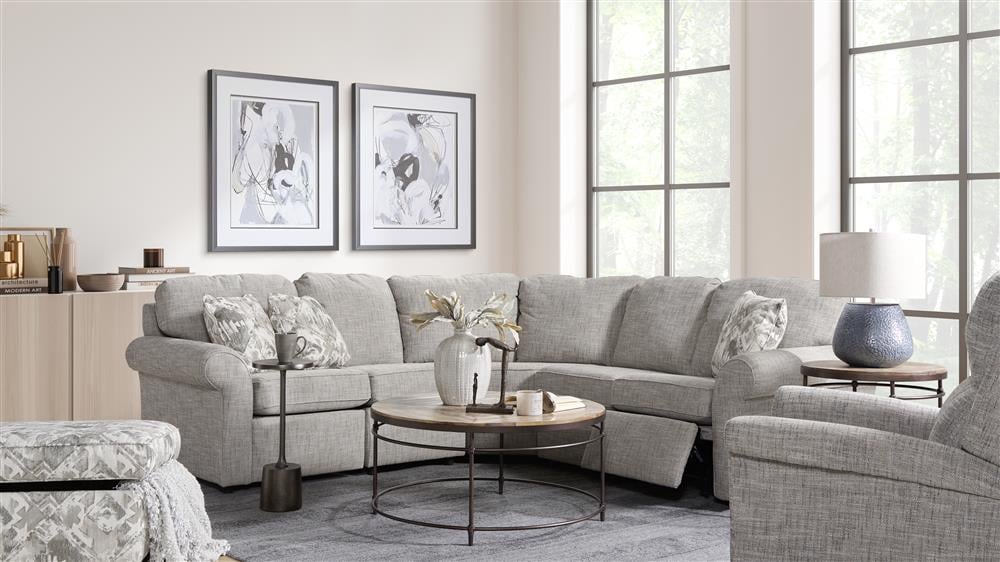 Our first rule to consider is storage. Living rooms or dens are full of extra blankets, pillows, DVDs, magazines, books, and even the occasional snack. These things all need to be put away either at the end of the day or while you're cleaning. That means everything needs its own spot, a place where it can be stowed. We'll start with the smaller pieces of furniture found in the living room and work our way up! 
Coffee & End Tables: These tables come in all shapes and sizes, so you have plenty of options! Most of the time, a coffee table is placed in the center of your living room seating, while end tables are along the sides of those seats. They're good for holding books, magazines, chargers, and other small need-it items. There's a wide variety of storage types including shelf, drawer, lift top, door, basket, open cabinet, and more!
Storage Ottoman or Storage Bench: These are great for holding larger items like blankets, decorative or floor pillows, puzzles, shoes or slippers, and board or card games. Not only are storage ottomans and benches stylish, but they're also invisible when it comes to storage; you can't tell it's a storage piece unless it's already open! 
TV Stands: Most TV stands have included storage, so this one's an easy check off the list. The biggest consideration is what will be stored there: video game consoles with games, movies, CDs, board games, etc. Once you know exactly what will be stored on the stand, then picking one should be a breeze! 
The next rule is using smaller-scale or stacked furniture. Let's start with some of the pieces we've already covered: coffee and end tables. Some coffee tables have two (or even three) levels of shelving to maximize storage, and end tables are the same way with a narrower frame to help create a smaller footprint. Now your living room tables can be stacked and packed with all your favorite things! With that, let's switch gears toward seating… to loveseats! Sofas are great, but some of them are just too big to fit in your not-so-spacious room. Loveseats have the same comfort and style, with just a little more coziness to them. Loveseats typically have two cushions instead of a sofa's average of three, so they're a little shorter in length. Even so, loveseats are perfect for sprawling out or snuggling up with your plus one. Other sofa substitutes include chairs and recliners, smaller in size but equal in relaxation.
The Home Office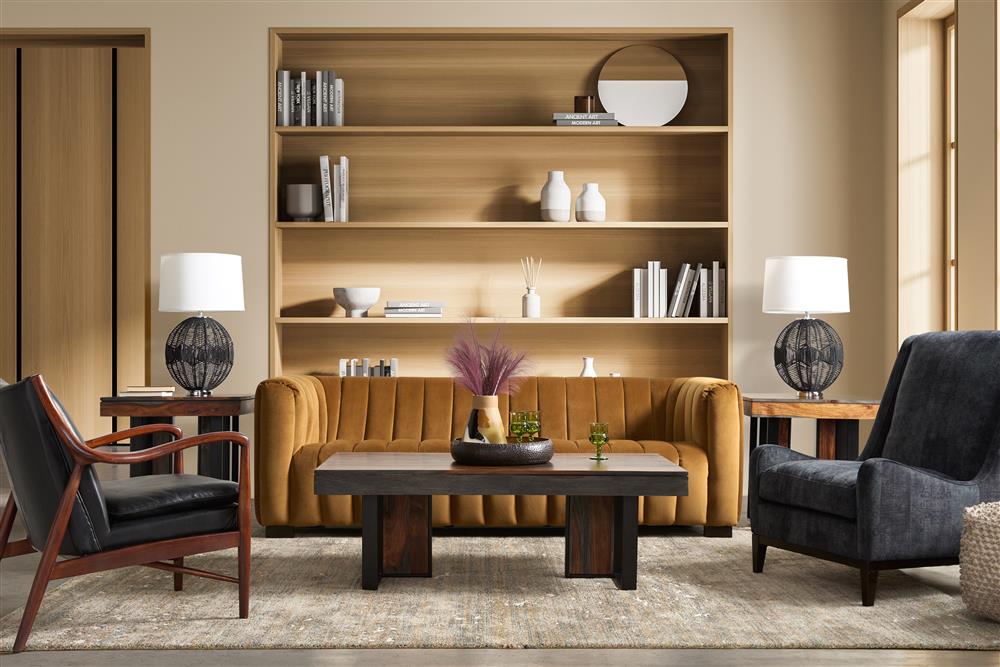 Home offices are gaining popularity with the flexibility to work from home. Because of that, many extra rooms and spaces are being converted to offices so at-home-workers can have a place to focus. Some of these extra rooms and spaces are on the smaller side, so finding furniture that best works in these rooms is crucial! Let's look at some common office essentials and see how they fit into the rule of storage. 
Desks: Your office desk is where all the work gets done. To do that, you'll need all your tools for success: pens and pencils, paper, laptop or computer plug-ins and chargers, staplers, binders, books, notebooks, work snacks, and other little office necessities. Luckily, all these things can be held right at your desk! Many desks have drawers or shelves to hold everything, so you'll have plenty of room for all your work necessities. 
Bookshelves: These can speak for themselves when it comes to storage… they can hold anything from decorations and books to knickknacks and work files. Don't underestimate the storage space of a bookshelf, they can hold just about anything! You can find bookshelves in different heights and widths with any number of shelves.  
Office Storage: The amazing thing about your home office is that it's yours. You can furnish it however you want, and use storage pieces that may not fit the same style as the rest of your home. If you'd like, that also means you can incorporate more 'office-y' type furniture into your home workspace, with an assortment of storage types including printer stands, cabinets, files, sideboards, and more! 
The second rule to consider is using smaller-scale and/or stacked furniture to allow for more overall space. If you don't need a lot of storage space, then a sleek, narrow desk without drawers is the way to go! On that note, using shorter and narrower bookshelves can also alleviate the feeling of being cramped in a smaller room. If you do need the storage space, that is okay too! This is YOUR   zone to work, and keeping all your work equipment in one room is important! You can save space by using smaller wheeled office chairs to easily move them out of the room when needed. Your workspace may be small, but your creativity is endless!
The Kid Bedroom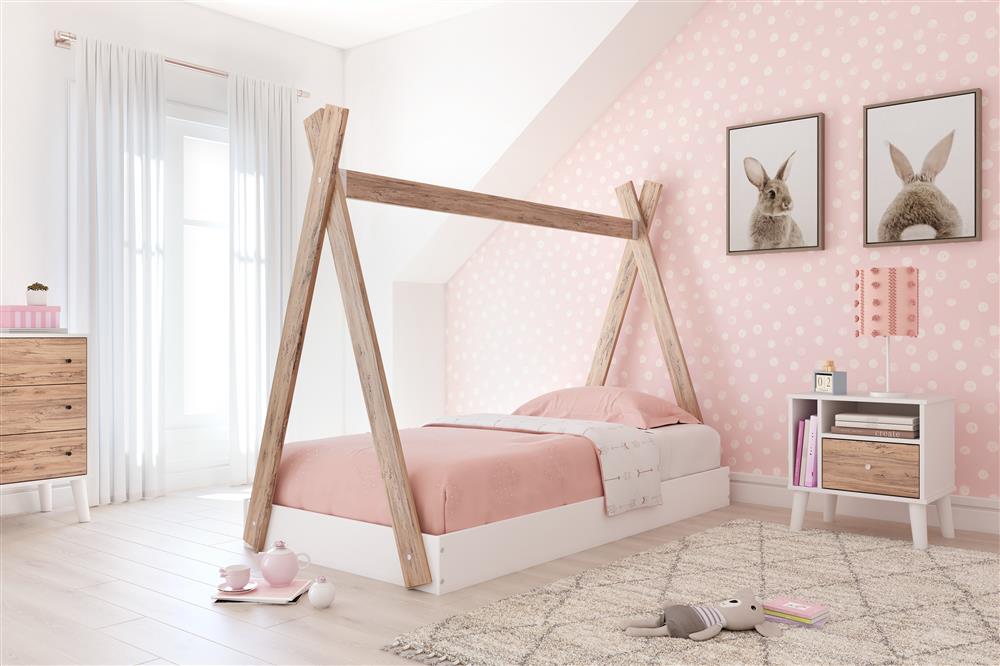 Every parent knows that regardless of the number of children in your home, there is ALWAYS an excess of toys, clothes, and running around with wild ideas. Having storage space in your child or children's room will give their clothes and toys a home, and teach them the value of cleaning up after they're done playing. Let's find some pieces that help maximize youth bedroom storage.
Nightstands: These are a great bedside spot for holding personals like small toys, a nighttime blanket, books, children's jewelry, or even a glass of water. Children can each have their own nightstand to store their favorite trinkets to keep them safe.  
Dressers: If your child's closet is smaller than desired (or there isn't a closet in your child's room), then a dresser is perfect for holding clothes! You can find one with any number of drawers or designs to blend right into your kiddo's bedroom style, and each child can have their own dresser for all their clothing – no mix-ups here!   
Chests: These are the perfect height for your young one to reach every drawer and set things on top for later. Chests are also great for holding mementos such as drawings, baby gifts, board games, heirlooms, and more. 
The second rule is using stacked or smaller-scale furniture to give more floor space. Youth furniture is scaled down for children, so that's an easy check off the list. However, if you have more than one child sharing a room, sometimes using one larger piece (such as a large size dresser or chest) to store things may be more ideal for your children's bedroom situation. For stacked furniture, the most popular piece that comes to mind is the classic bunk bed. Bunk beds are the root of every imaginary adventure: sailing pirate ships, flying through space, racing down a speeding track… and they're great for saving floor space by having at least one bed off the floor. They also come in a variety of styles, from traditional bunk beds and triple-stacked beds to lofts with desks and futons underneath. Save on space and money, but spend big on creativity and entertainment!
We've looked at three of the most common rooms in the home and considered options for maximizing space when the square footage is limited: the living room, the home office, and the kid's bedroom. Let's recap on how to make the most out of these rooms when space is on the smaller side: 
1.  The Living Room: Small tables, ottomans, benches, and TV stands are perfect pieces for storing everyday items (blankets, remotes, chargers, books/magazines, etc.). Tables for the living room can be found with any number of shelf levels! To scale down, try substituting a sofa for a loveseat, chair, or recliner.
2.  The Home Office: Storage pieces include desks with drawers, bookshelves, and office-style items (such as printer stands, files, sideboards, etc.). To save space, wheeled office chairs are great for moving them when needed, and smaller bookcases take up less floor space if you don't need a lot of storage.
3.  The Kid's Bedroom: There are multiple available pieces to use for storing children's toys and clothes, including nightstands, dressers, and chests. For maximum floor space, bunk beds are the best choice – that's one less bed on the floor and twice the height for all sorts of fun!
Having a smaller amount of space in your home, apartment, or spare room is not something to worry about. It's an opportunity to make a new, comfortable spot where you can either relax, focus, or pump up the fun without needing a ton of room. Make the most out of your tiny spaces!