As the family gathering place, the dining room is one of the most cherished areas in any home, and your family deserves to love its every nook and cranny. Narrowing down the perfect dining set is key to creating the dining area you and your loved ones will treasure and enjoy for years to come. 
What to Consider While Shopping for 5 Piece Dining Sets
The Space of Your Room
No one wants to deal with picking out a seemingly perfect dining set only to learn that their space simply can't accommodate it. Start with measuring the length and width of your space, and make sure your set accounts for the extra space needed during family gatherings and more.
Your Style
Would your family prefer a versatile and clean style, a traditional design, or a modern set with button tufted detailed chairs? How you want your set to mesh with the rest of the ambiance is completely up to you!
Base/Top Materials and Storage Components
Do you want a dining set made of laminate or wood material? Is a marble tabletop to your liking, or do favor the look of a pine veneer top? Decide what materials will best suit your needs and appeal to your aesthetic preferences!
 Now that you've thought through what five-piece dining set best suits your space, let's take a peek at some of our fantastic dining options that are all $500 or less! 
Choose a Clean-Lined Style That Fits in Any Setting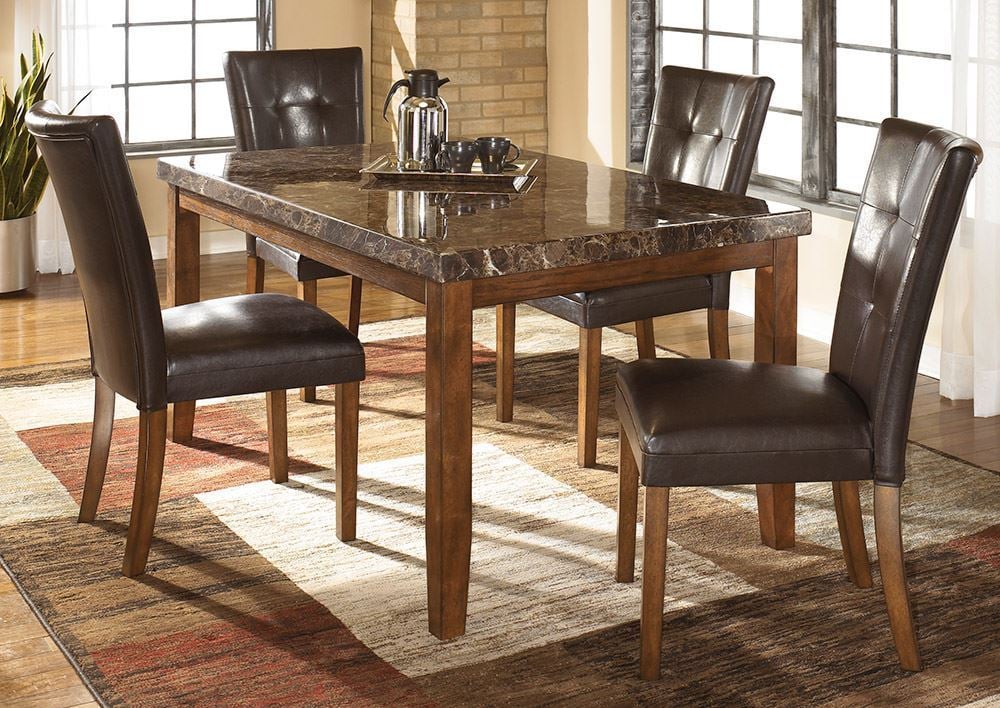 You and your family will enjoy the luxury faux granite top on this rectangular shape table. Upholstered in brown fabric, the chairs are also crafted with a dark brown finish on the wooden legs that match the black base of the table.
Make a Statement with a Rich Traditional Set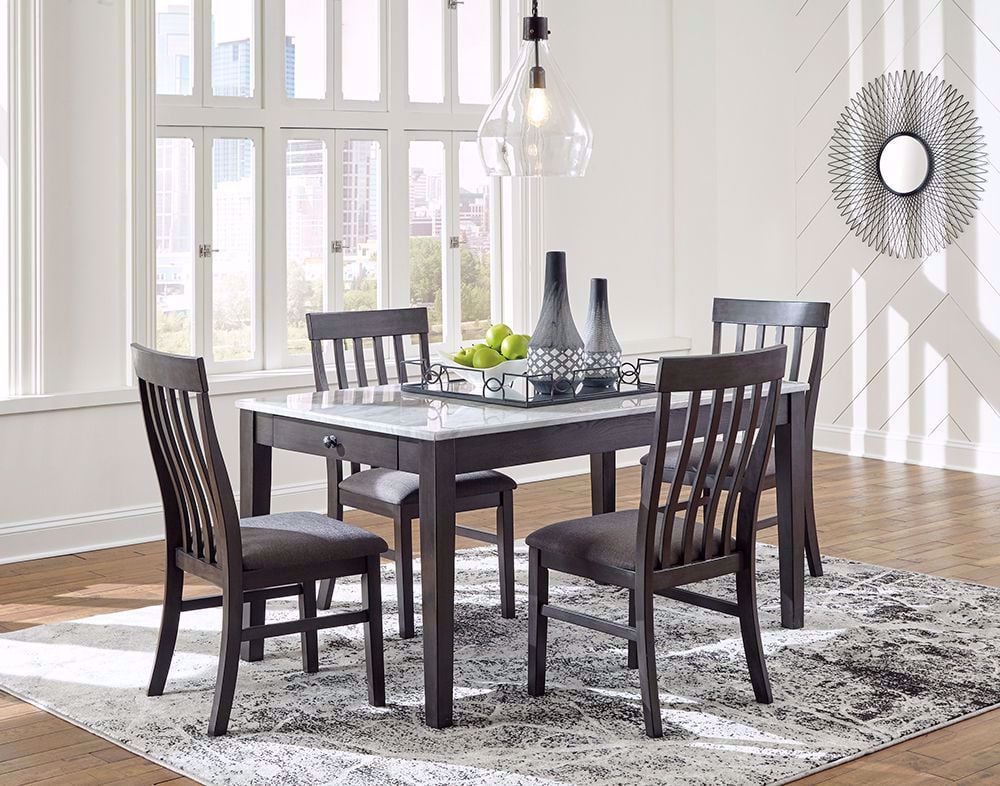 The Luvoni Rectangular Table with Four Chairs is rich with flowing traditional beauty.
Or Choose a Sleek, Contemporary Design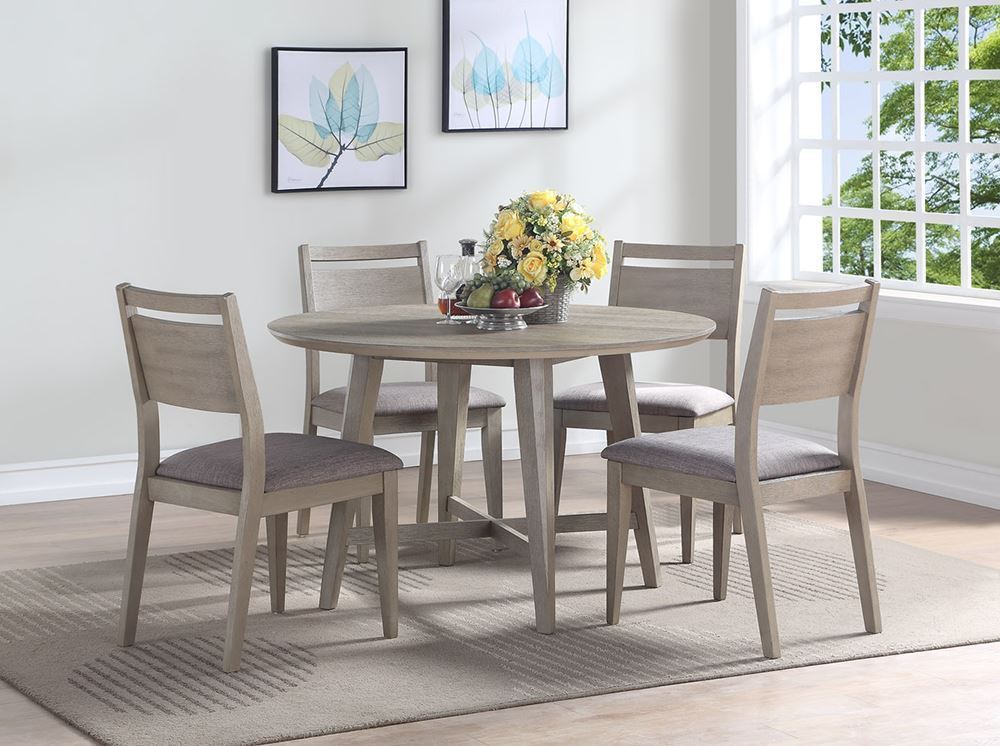 The Ana Round Table with Four Chairs showcases a sleek contemporary design with an oak wire brush finish, chic side chairs, and tapered wood legs.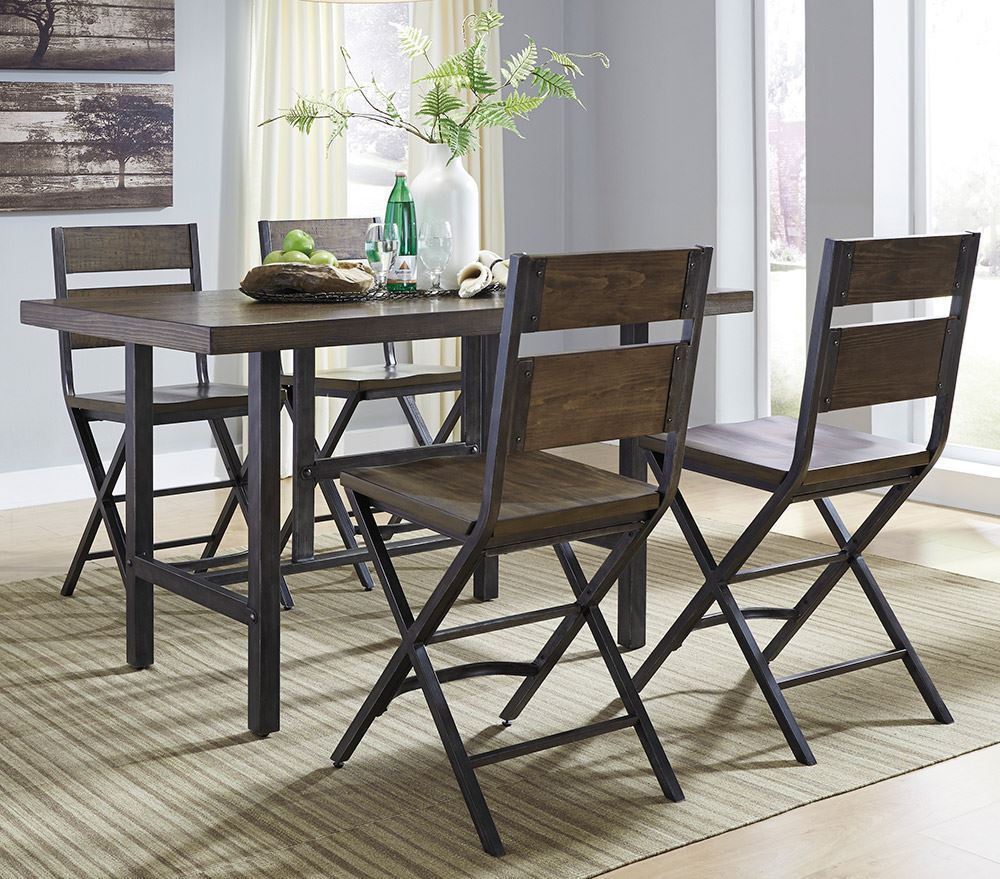 This five-piece dining set features select pine veneers and hardwood solids finished in a warm brown for a reclaimed look, metal detailing, and scooped stool seating.
Add Some Charm with Button Tufted Detailing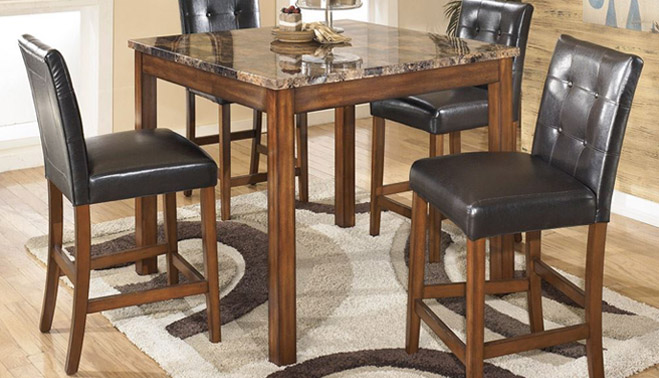 With the beautiful stitching and button tufting details of the faux leather upholstered bar stools, the Theo Counter Height Table with Four Stools is a refreshing addition to any home.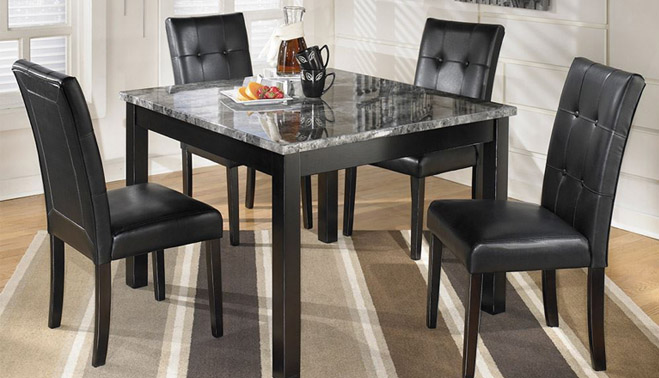 The Maysville Counter Height Table with Four Stools creates comfortable dining with the stylish look of the black faux leather button-tufted upholstered seating.
Now it's time to make your move on a set that doesn't make you sacrifice style, function, or your budget. Say goodbye to dinners by the TV, and say hello to quality family time!