Author: Sarah Horacek
Published: March 16, 2021
Every summer arrives bringing family gatherings, backyard barbecues, and endless days spent on the patio.
From small patio spaces to large poolside expanses, finding the right outdoor furniture can set the mood for the entire season. And when done the right way, your outdoor space can become a functional, comfortable extension of your home. Let us take the guesswork out of making any outdoor space a staycation worthy sanctuary by simply sitting back, relaxing and following these easy tips for designing your dream outdoor space.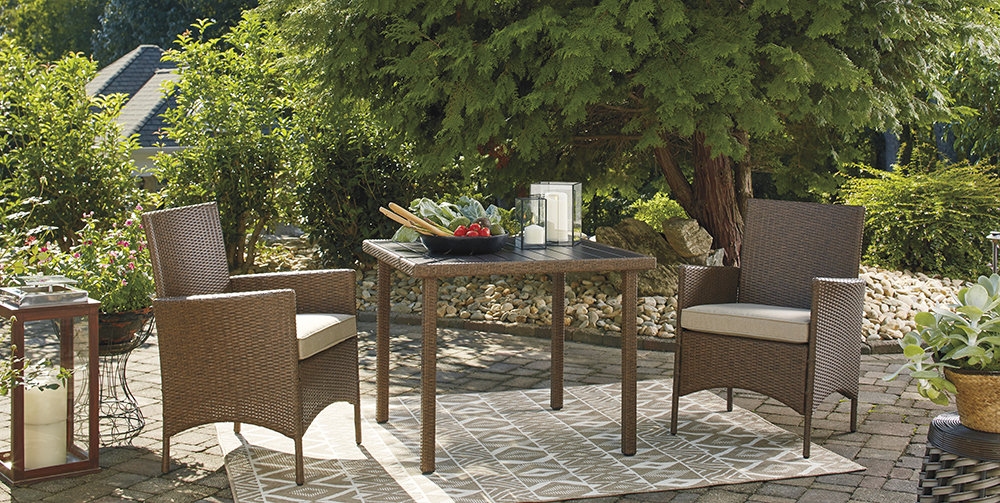 Small Spaces Don't Have to Lack Style
Short on space? Don't worry! Just because you are working with a small outdoor space doesn't mean you have to sacrifice style. The key to successfully designing a small outdoor area is making every choice intentional. From seating to accents, every piece should serve a purpose. Take a petite conversation set, for example, it provides ample seating without overwhelming the space, making it the ideal area for enjoying your morning coffee or a quiet conversation after a long day's work. And don't forget the accessories! Small spaces can easily collect clutter so when adding accents, keep it simple by choosing one statement accessory like a rug, vase, or accent pillow to complete the look. Remember, small spaces don't have to lack style!

Say "Yes" to Outdoor Entertaining
Take full advantage of warm weather and say yes to outdoor entertaining! Outdoor entertaining options are not "one size fits all" and can be catered to fit any style, budget, or occasion. When deciding how best to utilize your entertaining space, it's important to start with a plan. First, ask yourself "what purpose will this space serve?" and focus your design from there. Are you looking to bring the family together with a dream-worthy outdoor dining space? Try welcoming a rectangular or square outdoor table to pair with classic patio seating like swivel chairs, sling chairs, and benches. Add crisp textiles like rugs, cushions, and throw pillows in bright pops of color to help make the look complete. Is cross-functionality key? Then an eye-catching fire pit set is right for you. Spend summer evenings by the fire roasting s'mores in plush comfort; or insert the burner cover and the fire pit set will instantly transform into a dining table that can be enjoyed season after season! Find a balance between focusing on style and creating a functional space that feels like an extension of your home!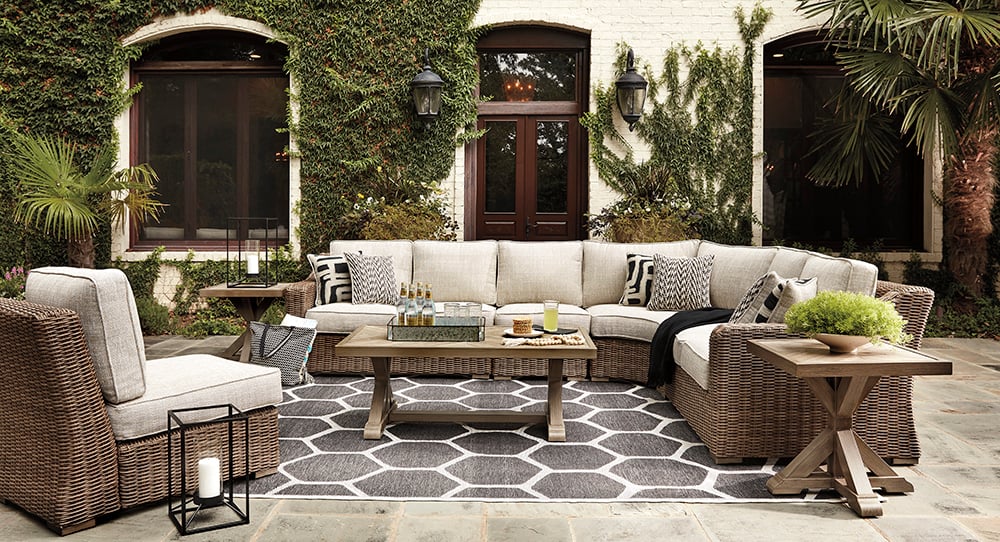 Enjoy the Indoors, Outdoors
You don't have to be stuck indoors just because you want to lounge in your living room. From sofas to sectionals, the options for outdoor lounging are endless. Large scale lounging sets, like outdoor sofas and sectionals, are built to be noticed and enjoyed! Low, deep seating creates the perfect gathering space for outdoor movie nights or poolside parties with family and friends. Outdoor living spaces should echo your home's interior style while increasing your home's livable square footage. Don't be afraid to add stylish accents you would traditionally find indoors like occasional tables, lively patterned pillows, rugs, throws, or table-top accessories. Just make sure they can stand up to the outdoor elements by choosing fade-free fabrics and weather-resistant materials. Whatever purpose your outdoor space may serve, make sure to do it in style!